Board Of Directors
The GUPA Board of Directors (BOD)  is currently comprised of 9 members. The directors are responsible for overseeing and ensuring that committees are functioning properly. Committees are comprised of volunteers (like you) who have an interest in helping make GUPA awesome.
Directors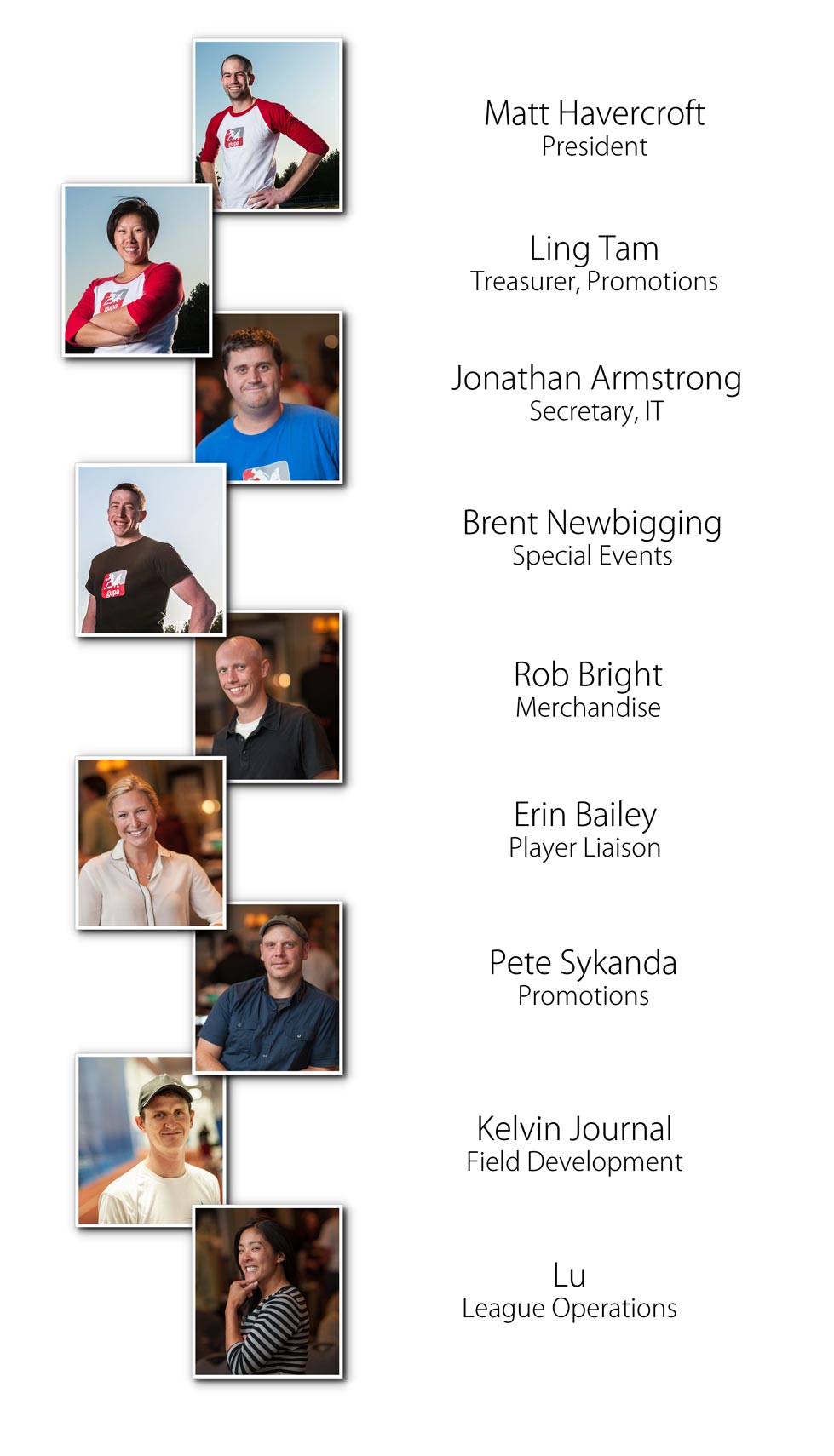 There are 7 committees that encompass what GUPA is and does.  Each of these committees could use helpful individuals, who would like to see GUPA grow and continue to improve:
League Operations (Day to day stuff that has to happen to make the league possible)
Special Events (Soggy Bottom bowl, Charity Hat Tournament, Rust Never Sleeps, End of season parties)
Promotions (Getting the word out)
Player Liaison (GUPA membership, league registration etc)
Communications and IT (Zuluru, Website, Social Media)
Juniors Program
Please find more detailed descriptions of each further down.
Role of BOD
Oversee Committees
Each director will be assigned committee portfolios based on her/his interests
and expertise.
Each individual director will have discussions with the committee members of
her/his portfolio. The purpose of such discussions will be to keep up to date
with committee activities, assist in problem solving when required, enforce
deadlines, and to ensure committees are working towards objectives.
Each individual director will present discussions with the committees at
executive meetings.
Linking Committees
In order to ensure transparency, directors will keep committee
members informed and updated on GUPA activities through meeting minutes and
postings of the GUPA forum in a timely fashion.
Executive directors will look for commonalities/similar interests between
committees to facilitate joint projects.
Positions
President
Maintain portfolio
Chair executive meetings
Implementation and initiation of long-term projects that will aid in the
growth of GUPA
Implementation of skills clinics
Oversee creation and maintenance of manual of procedures
Oversee creation and distribution of annual newsletter
Create bylaws
Secretary
Maintain portfolio
Organize agenda and facilitate AGM
File annual reports
Post minutes of executive meeting to forum
Maintain player database for insurance/information/emergency purposes
Create bylaws
Treasurer
Maintain portfolio
Maintain bank account
Set league fees
Ensure fees are paid/collect fees from player liaison
Create a budget
Present fiscal report at AGM
Pay bills in a timely fashion
File taxes within 6 months of fiscal year end
Monitor investments
Create bylaws
Role of Committees
Communications/IT
Maintain website
Update scores/standings on Zuluru
Communicate canceled game due to lightning/rain
Advertise league
Implement on-line league management system
Suggested number of committee members: minimum of 3
Special Events
Organize charity hat tournament
Organize Soggy Bottom Bowl
Organize end of season parties
Update trophies
Volunteer recognition
Suggested number of committee members: minimum of 2
Promotions
Market league within the community in the spirit of GUPA
T-shirts/gear/discs
Advertising
Sponsorships
Suggested number of committee members: minimum of 2
Player Liaison/ Division Convenor
Organize and distribute team welcome packages (welcome letter, waivers, lightning information, cones, rule books).
Collect scores and provide to Communications in a timely fashion
Investigate spirit issues
Arrange and host captains' meeting each season
Help individuals find teams
Build relationship with teams
If necessary, help Operations set up and take down fields
Suggested number of committee members: minimum of 1 per division
League Operations
Set up and take down fields
Lighting during fall season
Ensure quality of fields
Liaise with field contact person
Build relationship with city
Develop first aid system based on field schedules
Inventory control
Set schedule for games and playoffs
Book fields
Develop player handbook
Suggested number of committee members: minimum of 3